If you've recently looked at your home's exterior, chances are you've found cracks and patches of the paint fading away. Besides being painful to look at, your home's security will also be compromised. Now would be an excellent time to make repairs on your vinyl siding before things get worse. But before you look for siding repair tutorials on YouTube or head over to the hardware store to buy supplies, here are important facts you should keep in mind.
How Long Does Vinyl Siding Last?
Can you remember that time when your vinyl siding was still freshly installed? It must have felt good looking at your home with such a beautiful exterior. But as years pass by, the once eye-catching façade is now looming in the shadow of its glorious past. The question when can you expect these adverse changes to your home? Lucky for you, it should take a long time. Vinyl siding is one of the most durable siding materials in existence. Generally, it averages 30-50 years. However, it would all depend on your location, weather elements, and quality of installation.
Signs That It's Time to Repair Your Siding
When it comes to siding repair, the first thing you should know is when to start fixing your exterior. You don't want to spend resources on materials that still work or approach the problem when it's too late. That said, here are some hints to remember:
Holes and cracks in the siding can cause moisture infiltration, mold growth, and termite infestation. Water would be the biggest issue here. It can leak into your home through the cracks and weaken the material.
The paint has faded. UV rays and other natural elements will eventually take a toll on the exterior of your home. Although faded paint isn't much of a protection issue, it can affect the house's aesthetics. If you want to increase your home value, keep the color looking fresh!
A high energy bill. If you have an unusually high energy bill, it may be time to take a look at your siding. It might be the culprit when moisture seeps into the insulation and blocks air circulation. This means that more heat will stay trapped inside the home–causing your energy consumption to go up.
Warping from excessive sun exposure. Vinyl siding is notorious for popping out of place when exposed to extreme temperatures that it can withstand. The result is an irregular appearance and durability issues. 
After a storm. While you can count on vinyl siding's durability, there's no telling the scale of damage a storm can bring to your home. Be sure to check your exterior for any cracks or changes in the overall composure of the panels.
DIY vs. Hiring Professional Contractors
When they see problems with their vinyl siding, one common question by homeowners is whether to fix it themselves or seek professional help. Well, the general rule of thumb is when you're dealing with a few small holes, it won't hurt to patch it up yourself. However, if the damage involves several panels, it would be best to leave it to the experts.
Fixing Small Cracks and Holes
What is considered a small hole that you can repair? Well, if it's something no larger than a dime, you should be able to patch it up easily—no need to remove the entire board. Just buy an extra-grade caulk of similar color as your vinyl siding from the local hardware. Start by cleaning the area around the hole first. Next, fill it with caulk and let it dry for a few hours. Finally, cut out the extra layer with a knife and smoothen out the surface until it is level with the board. Voila! Congratulations on your first successful attempt to fix your siding.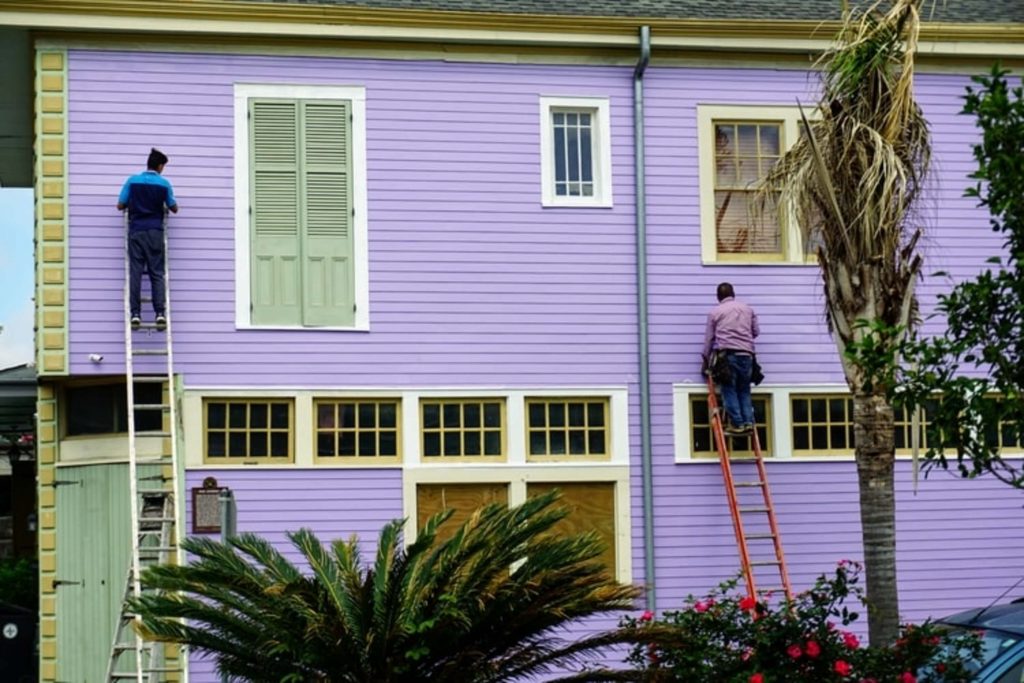 Conclusion
Repairing a vinyl siding largely depends on the size of the damage. Small fissures can be easily patched using DIY methods. Hiring professionals might seem like a waste of money, but looking closely, they actually reduce the cost by making sure the repairs will last for many years to come.